Here are just a few more trend and tips on what you're going to see in the stores and boutiques.
Oxblood
This color is just so rich a luxurious! The funny thing too is, it can play as a neutral almost. You can pair just about ANY color with it and it will work! If you want to try this trend but aren't sure how, try it in a shoe or a tee shirt and work from there.
Trapeze Sweaters
I'm in love with this trend because my winter 10 came on a little more prematurely than expected and this loose silhouette allows me to be comfortable as well as it camouflages the area I gain.
I prefer this trend be worn longer than shorter. I feel the most flattering styles hit you at mid-thigh. It gives the garment some length and weight to really hug your figure.
And a MUST is that it should be worn with a SKINNY bottom! Leggings, Jeggings. The skinny off sets the fullness of this sweater.
Booties
The bootie has been around for awhile now but it's really taking a step forward into the trend spot light this season. The misconception is that you can only wear booties with pants but that's just not true. You can rock a bootie with a skirt or dress. My tip is to match your tight with the shoe if you want to create a long continued line but if you have some leg real estate then rock a contrasting tight to shoe!
Colored Denim/Cords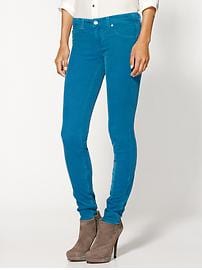 Even my most conservative of clients want and rock the colored cord. You can pair a great black, gray or navy blazer with these puppies or just an easy tee and denim jacket. Notice the booties:)
There you have it, just a few more fall trends that I've spotted out and about. So have fun and shop stylishly,
Sara